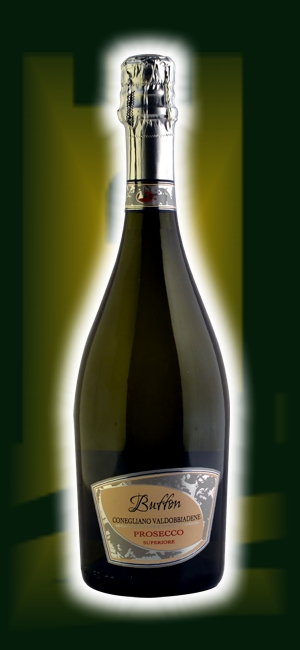 CONEGLIANO VALDOBBIADENE PROSECCO SPUMANTE SUPERIORE BRUT DOCG
From the DOCG territory of Conegliano-Valdobbiadene we get grapes that once they arrive in the winery are pressed gently with the use of a pneumatic press where one obtains various choices of must and only the "first pressing juice" will then be used for the production of Prosecco Spumante; the latter is then fermented at controlled temperatures, thanks to the use of selected yeasts at controlled temperatures (about 17-18 ° C) in stainless steel containers. After fermentation, the new wine is decanted once and then remains some time on lees. An additional transfer takes place and re-fermentations in autoclaves of 30-50 Hl capacity.
This is the driest Prosecco DOCG, dedicated to lovers of the more "natural" sparkling wine.
APPEARANCE: has a brilliant yellow-greenish colour, crossed by very small and persistent bubbles, aan indication of a long second fermentation, synonymous with a higher quality.
NOSE: is intense, very fine and fruity; you perceive clear hints of Golden Apple on a floral background. It distinguishes itself from the Prosecco Superiore DOCG Extra Dry through its high acidity produced by a lower degree of residual sugar.
TASTE: acidity with the flavor dominates the palate. Leaving the mouth dry with a pleasantly pungent aftertaste. It is dry, fresh and slender, soft and well balanced, with a good aromatic persistence and a pleasantly fruity finish. It is the classic aperitif wine that combines well with appetizers of fish, crustaceans and molluscs.